24.01.2022
Abrau-Durso Group Launches Abrau Cosmetics Line in Innovative Biodegradable Packaging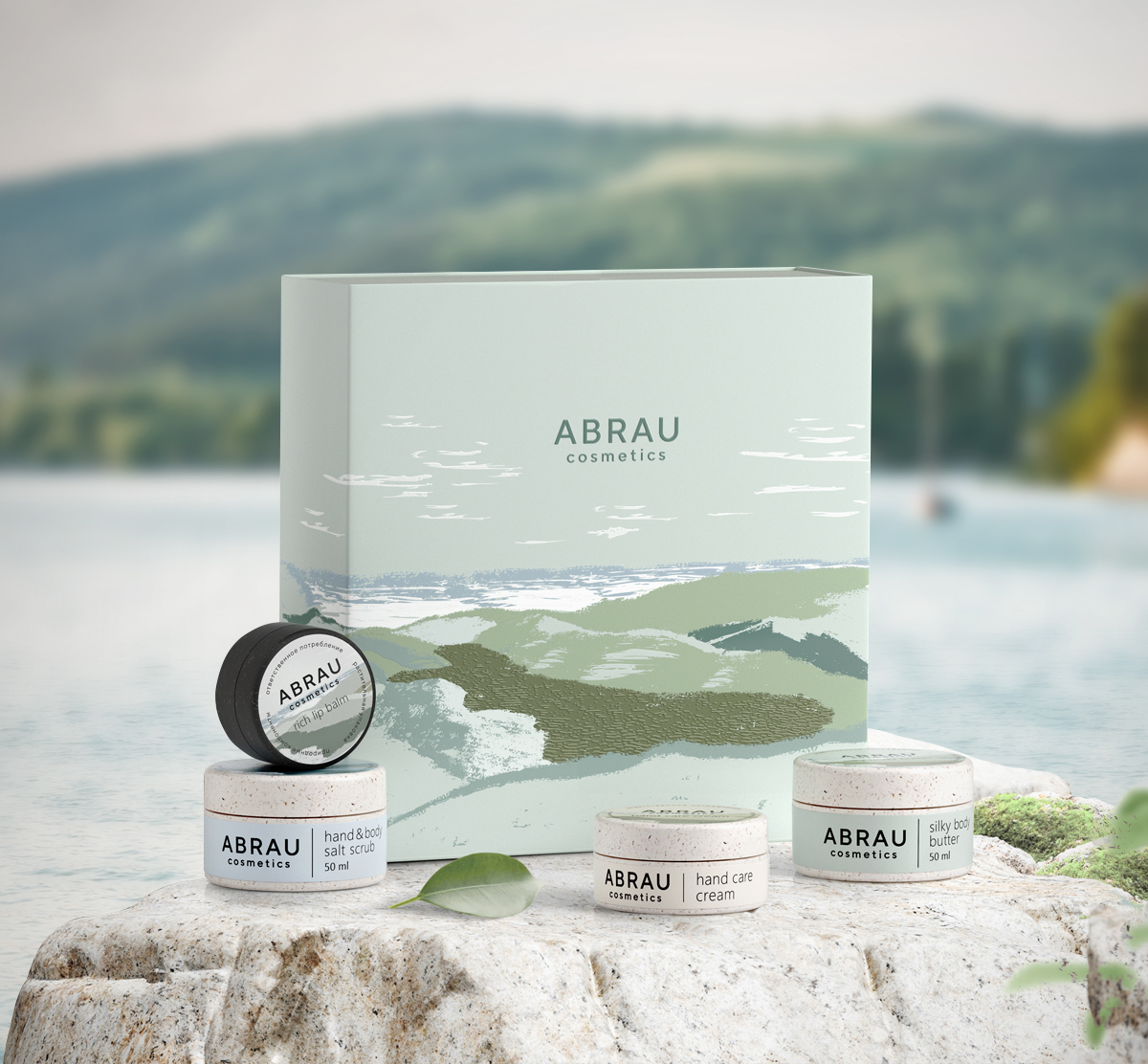 Abrau-Durso Group is entering a new market — the skincare products market — with Abrau Cosmetics brand. The company has launched its first limited edition skincare products based on valuable natural ingredients, mainly grapeseed oil and resveratrol derived from grapes grown at Abrau-Durso vineyards. The new skincare products are packed in innovative biodegradable packaging produced by Finland-based Sulapac.
Development of skincare products from grape-derived ingredients is a new, yet perfectly organic, area for Abrau-Durso. Company-owned vineyards are a good source of raw materials facilitating numerous business activities.
Grape seeds which borrow some valuable qualities from the mineral soil of the unique Abrau-Durso terroir are delicately pressed to obtain top-quality oil. Grape skins are used to extract resveratrol, a powerful antioxidant that helps prevent aging and has anti-inflammatory, antibacterial, and antiviral properties. Grapeseed oil and resveratrol are important active ingredients of the Abrau Cosmetics skincare range.
The innovative packaging for Abrau Cosmetics products is developed by Finnish company Sulapac. It is made from wood and can biodegrade quickly, without hurting the environment. Sulapac products received several prestigious awards in the area of eco-friendly packaging and innovations for sustainable development. For example, Sulapac claimed first prize in the Sustainable Packaging category at world-famous Sustainable Beauty Award hosted by Ecovia, a research firm focused on the global market of eco-friendly products. Sulapac also received the Green Award at the international luxury packaging competition LUXE PACK in Monaco and ranks among top-10 green technology advocates, according to the Global Cleantech Cluster Association (GCCA). Abrau Cosmetics is the first brand in Russia to use biodegradable packaging from Sulapac.
"It is a great honor for us to present Sulapac on the Russian market for the first time together with the new Abrau Cosmetics brand from Abrau-Durso Group, known for its high-class wines. Our beautiful, functional and sustainable materials are designed like nature. They biodegrade without leaving permanent microplastics behind. Stylish finish with fine wood chips gives Sulapac a unique natural look that complements Abrau Cosmetics packaging beautifully," comments Suvi Haimi, CEO and Co-founder of Sulapac.
The new Abrau Cosmetics business is led by two partners — Kseniya Titova, the spouse of Abrau-Durso shareholder and president Pavel Titov, and Ruslan Romantsev, the CEO of KubanBytKhim company which produces safe household chemicals.
Kseniya Titova has spent more than ten years studying natural beauty product manufacturing technologies and processes. A graduate of the Department of Life Sciences at the Imperial College London, she completed a course in Beauty Therapy and Health Studies at London College of Fashion and attended UK-based Formula Botanica school and the Tisserand Institute. "The eco-friendliness of Abrau Cosmetics is very important for me," Kseniya Titova commented on the new brand. "The sad thing is that the beauty industry is still lagging behind in environmental and sustainable development aspects. We want to remedy the situation, which is why natural ingredients derived from plants were mainly used in Abrau Cosmetics products. For our packaging, we chose eco-friendly solutions from Finnish innovative producer, Sulapac. More and more global brands go for it. Sulapac packaging is used by Chanel, now the co-investor of the Finnish company. Abrau Cosmetics is only starting its first steps, but I'm sure that it will be a success."
"Although Abrau-Durso's main business is winemaking, we seek diversification while at the same time retaining our source material — the grapes. We use grapes to produce sparkling and still wines, oils, and most recently — skincare products. We had the idea to come up with our own cosmetics brand long ago, but we wanted to make sure that our product will be friendly to the environment rather than damaging, so we became the first brand in Russia to start cooperation with Finnish company Sulapac which produces 100% biodegradable packaging. High-quality healthy formulas and eco-friendly packaging make Abrau Cosmetics stand out in a crowd," president of Abrau-Durso Group Pavel Titov commented.
New Abrau Cosmetics products come as limited-edition sets in gift packaging. The price varies from RUB 2,600 to 5,400.
Abrau Cosmetics products are available in Abrau-Durso Wine Ateliers, at Abrau-Durso stores and at https://abrau-cosmetics.ru/.
Background Information:
Russian Wine House Abrau-Durso is a leading producer of sparkling and still wines in Russia. The estate of Abrau-Durso was founded in 1870 by order of Emperor Alexander II. Russian Wine House Abrau-Durso presents collections from Abrau-Durso, Vedernikov, Loza, and other wineries. The company is also the official and exclusive distributor of international brands, including Freixenet, Mionetto Prosecco, Henkell, and Torley in Russia. In 2020, Russian Wine House Abrau-Durso sold more than 40.5 mln bottles. In the same year, the company celebrated its 150th anniversary.
Contacts:
Olga Firstova,
Communications and PR Director of Abrau-Durso Group
+7 (926) 904 97 54, +7 (495) 933 33 33