20.11.2020
ABRAU-DURSO PRESENTS BRUT D'OR BLANC DE NOIRS – CLASSIC SPARKLING WINE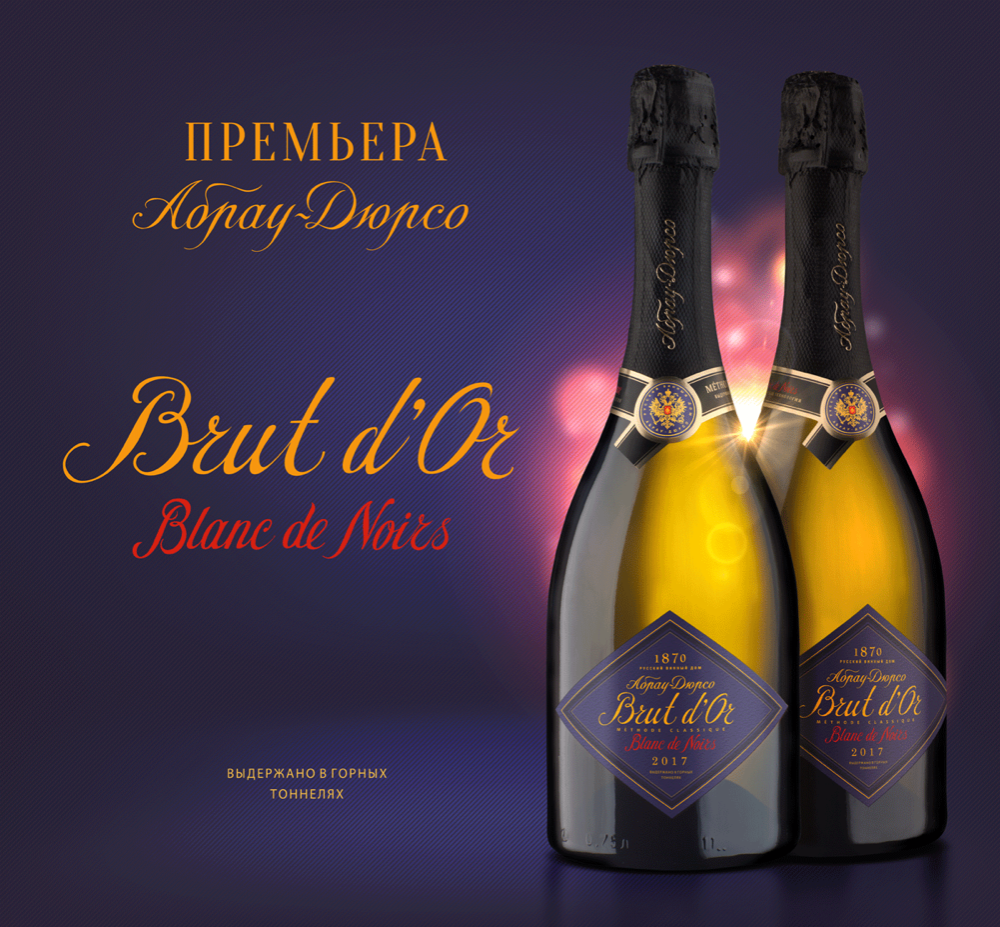 «Abrau-Durso» presents Brut d'Or Blanc de Noirs — a classic mono-spot sparkling wine made from Pinot Noir grapes.
In the year of its 150th anniversary, the Russian Wine House «Abrau-Durso» has replenished the collection of single-varietal sparkling wines Brut d'Or with a new sample — Blanc de Noirs, created from Pinot Noir grapes. Previously, the collection was represented only by the classic sparkling Brut d'Or Blanc de Blancs («white from white»), created exclusively from Chardonnay grapes.
The novelty Brut d'Or Blanc de Noirs, which means «white from black» in French, was created using the 2017 harvest, harvested by hand from the best vineyards in Abrau-Durso. In the process of creating wine, whole bunches with ridges were used, which were kept in the cold until the moment of pressing, which made it possible to preserve the fullness and versatility of the grape aroma. In the production of this wine, only cuvée was used — the juice of the very first pressing, which turned out to be light and almost transparent due to careful pressing, in which pigments from the skin of the berries did not get into it.
"For a long time, the Brut d'Or collection has been represented by one position — Blanc de Blancs from Chardonnay grapes, which has found its loyal admirers and won many prestigious awards in Russian and international competitions. When deciding to expand this collection, we opted for the Pinot Noir grape variety. This very capricious variety comes from Burgundy and requires a lot of attention, it is sensitive to weather conditions and soil composition. That is why it is doubly difficult to create an outstanding wine from Pinot Noir. But we see great potential in how this variety is revealed on the Abrau-Durso terroir — here it acquires a slender structure, and the wines from it have a multifaceted aroma and have a good aging potential, «comments Pavel Titov, President of the Abrau-Durso Group of Companies.
Brut d'Or Blanc de Noirs, created according to the classical technology, is a sparkling wine of a delicate golden color with a subtle creamy shade, persistent mousse and a soft but dynamic perlage. In the initial wave of aromas, intense tones of red berries — currants, strawberries and cherries — are clearly manifested. Further contact with air complements the berry aroma with delicate notes of paste and marshmallow. Taste sensations from this elegant wine are fresh and rich, round and silky, revealing hints of honey, leaving a delicate fruity aftertaste. Three-year aging in mountain Abrau-Durso tunnels brings fullness to the pallet, allowing subtle tones of undergrowth and truffles to appear in a long aftertaste. With aging, the aroma of this wine will acquire an even more multifaceted and complex structure, which will fully reveal the potential of the Pinot Noir variety, ripened on the Abrau-Durso terroir.
Brut d'Or Blanc de Noirs is produced in a limited edition of 15,000 bottles and is exclusively sold in the Abrau-Durso Wine Atelier chain stores. Wines from this collection will also be presented in selected restaurants in Moscow and St. Petersburg. The label of the new wine is made in the recognizable style of the collection, but purple was chosen as the main color — the most mystical in the color spectrum. The retail price of the novelty is 1200 rubles. Additional Information Wine description:
Sparkling wine with protected geographical indication «Kuban» brut white Brut d'Or Blanc de Noirs:
Harvest: 2017
Composition: 100% «pinot noir»
Alcohol: 11.5-13.5% vol.
Elegant classic sparkling wine of a delicate golden color, filled with aromas of red berries — currants, strawberries and cherries, which are harmoniously complemented by confectionery notes of paste and marshmallow. Bright, refreshing taste with a long aftertaste.