14.07.2022
ABRAU VINONADE - A NEW COLLECTION OF SOFT DRINKS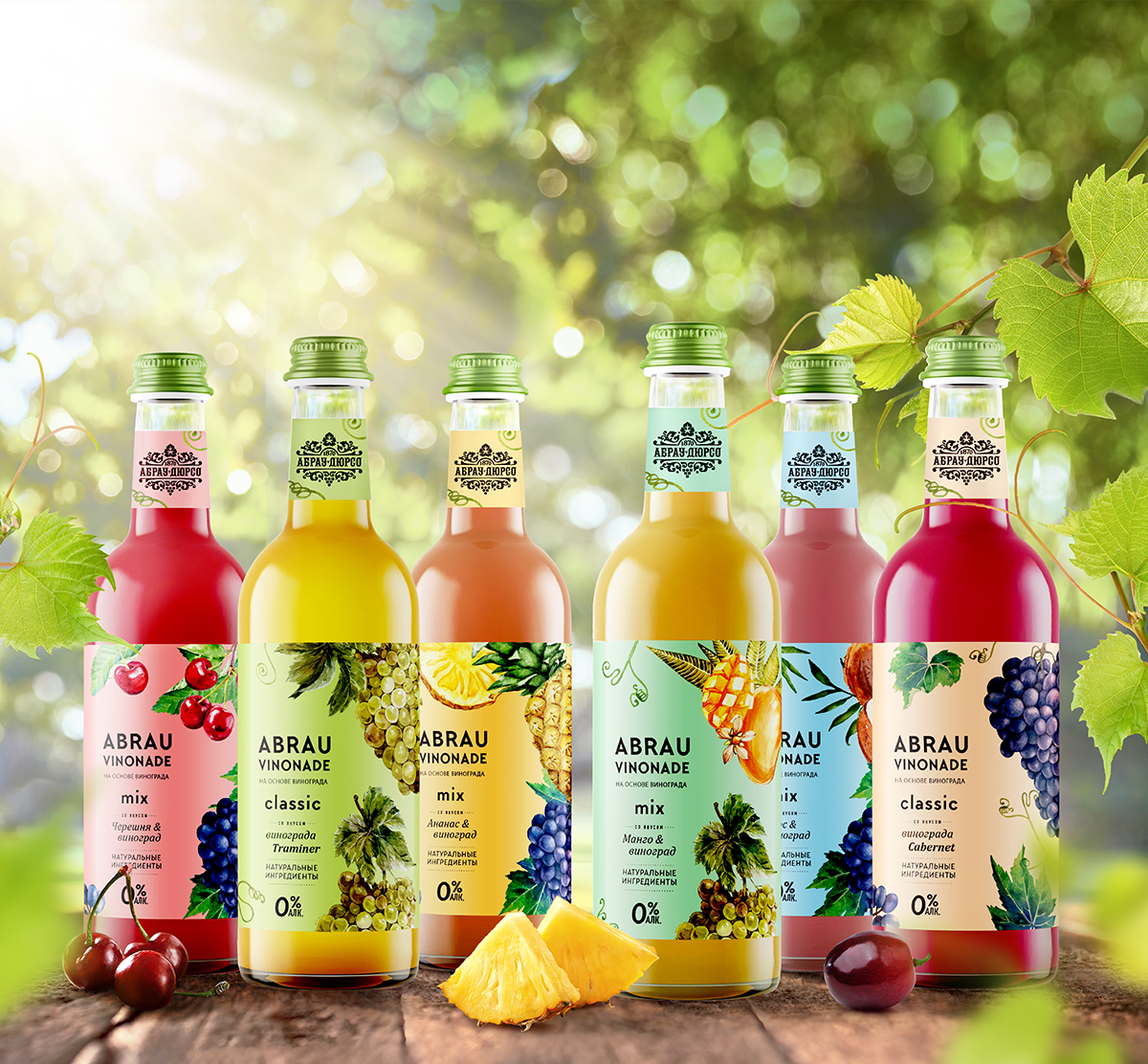 Abrau-Durso Group is expanding its range of non-alcoholic products and is introducing a new brand, Abrau Vinonade, a collection of six carbonated soft drinks of various flavors based on grape juice.
The collection is represented by six product names: two classic monosort grape flavors - Abrau Vinonade Cabernet with notes of blackcurrant, blackberry, plum and cherry unique to this grape variety, with exquisite nuances of violet flowers distinguishing the unique style of this famous French variety; Abrau Vinonade Traminer with expressive tones of Traminer grapes filling the carbonated drink with notes of lychee, rose petals and exotic fruits. The Abrau Vinonade collection also includes four fruit and berry mixes with an obligatory grape component: cherry - grapes, coconut - grapes, mango - grapes and pineapple - grapes.
The creation of the Abrau Vinonade collection was mainly driven by an increase in demand for domestic products, a general increase in the consumption and popularity of non-alcoholic carbonated drinks, including for adults, as well as the desire of Abrau-Durso to expand its presence in the segment of non-alcoholic products.
"Being experts in winegrowing and winemaking, who love their work, we make grapes the focus of our products. The Abrau-Durso range already has well-known products: wine and cognac. We also produce grape-flavored artesian water, non-alcoholic sparkling, cosmetics rich in grape seed oil, and separately edible oil. We know almost everything about grapes and believe that its rich varietal composition and compatibility with other tastes is the territory of new opportunities and discoveries. We believe that drinks under the Abrau Vinonade brand will find their admirers, and the neologism "vinonade" invented by us will become a household name for the entire category of non-alcoholic carbonated drinks based on grapes," Pavel Titov, President of Abrau-Durso Group, commented on the launch of the new brand."
Abrau Vinonade carbonated soft drinks are produced in 0.375 l glass bottles made in the style of Bordeaux wines, with a screw top. The first edition of Abrau Vinonade was 75,000 bottles. In the near future, the Abrau Vinonade collection will be available in federal retail chains, as well as at branded boutiques of the Abrau-Durso Wine Atelier. The cost of Abrau Vinonade at the Abrau-Durso Wine Atelier in Moscow is 139 rubles per bottle.
Additional information:
Production site: Loza Plant (Sukko village), which is part of Abrau-Durso Group.
Exclusive distributor: RokBir LLC